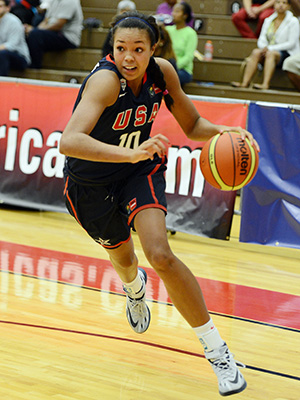 Since emerging as an elite student-athlete, Napheesa Collier has reached the greatest heights of each level of play. Now, she is ready to apply her knowledge and experience to help young players elevate their game and reach the next level in their athletic and personal development.
As a High School Basketball Player for Incarnate Word Academy
3x Gatorade Missouri Player of the Year (2013, 2014, 2015)

McDonald's All-American Team (2015)

Miss Show-Me Basketball (2015)
As a College Basketball Player for the UCONN Huskies
NCAA Champion (2016)

2x AAC Player of the Year (2017, 2019)

AAC Defensive Player of the Year (2019)

Katrina McClain Award Winner (2019)
As a Professional Basketball Player for the Minnesota Lynx
WNBA Rookie of the Year (2019)

2x WNBA All-Star (2019, 2021)
As a Player for the United States Olympic Basketball Team
Gold Medal Winner, Tokyo 2020 Summer Olympics (2021)
Basketball Knowledge: Each level of play carries its own challenges and opportunities for young players. Napheesa understands every stage of the journey and knows what it takes to develop student basketball players into elite athletes. 
Goals for this club: Napheesa and our coaches are committed to developing well-rounded basketball players. Complete players can do it all. They are great teammates with solid fundamentals, a good basketball IQ, and specialized skills to help their squad win.
"As someone who played in St. Louis, I want to see the girls in St. Louis elevated and go on to the next level."
-Napheesa Collier